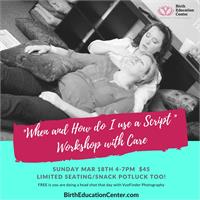 Script Workshop
In honor of World Doula Week - a new workshop for you! What's all this talk about reading scripts for moms? Being exposed to HypnoBirthing, you may have moms that are used to relaxing and practicing birth visualizations through the use of scripts. But reading scripts, understanding why we use them and how they work best is VERY important for them to be effective for our mamas. I am offering this workshop because doulas may be using these without all the information and not doing anyone any favors. In fact, it could actually cause more distrust in the birth process and/or their bodies if they are not setup the right way for parents. *Note: You will leave with some scripts but NO copyrighted scripts will be handed out in this workshop.
This workshop will be:
a taster session of hypnosis and how it works(so you will get some relaxation too)
explanation and theory of how to properly use a script and when and why to do it
understanding when it is "out of scope" and a professional may be needed
practice with your peers to build confidence and calm
and always a potluck(snacks this time, bring your favorite)
Workshop limited to 20 persons only. FREE to all those getting a head shot that day with VueFinder Photography(if spots still available) - contact myself or Ashley via email to be added to the workshop if you are getting a head shot. THIS WILL BE FIRST COME, FIRST SERVED so if it is full before you let me know about the head shot, you will need to pay to attend. So excited to add to your tool box! See you soon!