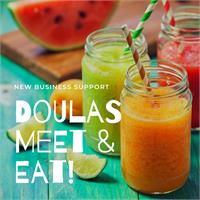 Doulas Meet and Eat
It's been awhile since we just had a meet and greet for business support! A potluck lunch where the first hour will really be hearing who YOU are and what support is available in San Diego as we support each other''s businesses. With so many new doulas just starting and so many right out of training wondering where to start, this event will help connect and network everyone in the same boat!

If you HAVE taken our Professional Series you are invited!! If you have NOT taken our Professional series you are invited!! This event is specifically for newer doulas trained within the last 2 years. Meet myself(Care) and some of the experienced doulas in the community who work with the BEC and ask your questions.

We can't wait to see some of you again and meet others we haven't socialized with yet! Our moms need great doulas so let's all get connected!
Drinks provided - bring your favorite summer dish to share!
Sign up today! Seating Limited. See you soon!!