Doula 101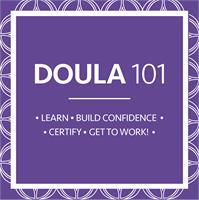 SERIES COST: $250/$300(see below for pymt info) Doula 101
This class is for Birth/Postpartum doulas - Begin the journey with confidence and support! Don't know where to begin – this will be your step by step plan to success. Simple and easy to accomplish!
We also believe and encourage self work and self care during the start up phase of your new career so that you have a solid foundation for yourself. We offer a lot for you in this area - connection with yourself and others in the community will only help you be better with the families you are about to serve! It is important to keep a projection of abundance and non-competition with those in your community - and we will answer all your questions as to how to start with yourself first.
We will cover the basics of getting your business started (website, cards & advertising), organizing your personal life, paperwork for the state & government (setting up your files) and help you identify and set realistic goals for your business. Begin working on that certification – step by step.
There is so much you can do BEFORE you have your first interview or work with your first family! Volunteering and networking will sky rocket your plans – find out how & where to start. Learn which trainings to budget for and which websites you'll find a wealth of information on. Get your foundation in place and you'll feel so confident when taking that first birth and begin your new business!
Minimum of 8 students to hold the series so gather your doula friends. If not enough people to hold the series - we will refund in full.

Registration for the Doula Professional series closes 1 week prior to the series - Sign up early! We need time to get handouts etc. in order.
Limited seats available
Must have completed a training with a certifying organization. (DONA, CAPPA, To Labor, Pro Doula, Madriella, SDB).
If you are a Hearts and Hands volunteer doula from UCSD and are interested in participating in the BEC doula matching/referral program, you need to go through a certifying organization training first. We recommend the DONA training with Gerri Ryan. If you just want to take the series to gather education, you will not need the certifying organization training.
This series is for doulas in training, working toward their certification.
For questions: Please email:
Ashley@BirthEducationCenter.com
Pay in Full Option: $250 for the series made in one pymt (save $50) - also includes a private 45 minute business consultation at the end of the series with Care(to be scheduled at the completion of the series)
Two Payment Option: $150(non-refundable) 1st pymt due a week before the series begins.
Final pymt of $150 must be received by the day before the third class(Doula 103)
Resource Idea: Paypal also offers a 6 month, interest free plan where some of our San Diego doulas have started their education and trainings.
Refunds for this series are NOT given as we base the series being held on enough attendance. If you miss a class due to a birth, your registration will stay on the books until the next time the class is offered so you don't miss it.