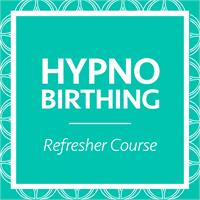 HypnoBirthing Refresher Course
COST: $75 PER COUPLE Scripps Ranch Location
Having another baby but can't quite remember how all the techniques went down last time? Or is it your partner that needs a tune up? Either way - it's different this time. You know the reward at the end of the journey and this time will be much easier to let go and go with the flow. This class was specifically designed to reconnect you and your partner now that you have become parents and are a lot busier than the first time(or second or third!). We will go over all the breathing, visualization and touching tools, a dry run of labor positions and discuss "do over's" from the last birth and hopes for the new one. You will even gather a few new tools for this labor and get geared up to look forward to it.
*Because of the relaxation and movement portions in this class, we are unable to accommodate your other children being present. We ask that you find childcare ahead of time or we will have to ask you to leave - thank you for understanding.
I would also suggest that you join the "Mamas only" - Release and Relax classes that are offered one Friday each month to give you private time with this new baby & prepare you even further.
$75 per couple (4 couple minimum to hold this class)
Location of class: The Birth Education Center, Scripps Ranch 9845 Erma Rd Ste 202, San Diego 92131