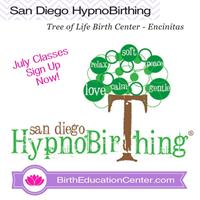 HypnoBirthing 5 Week Series - Tree of Life Birth Center
COST: $395 PER COUPLE
NEW LOCATION!! HypnoBirthing is breathing, relaxation, visualization and fear recognition. Don't let the name fool you! We know there are a lot of fears associated with childbirth in our country. Those fears should not hold you back from having an amazing birth experience. Once you know your options for birth and realize that it is a natural process that women do all over the world without all this fuss - you being to believe in your body and it's ability to birth. Birth partners are a key component in HypnoBirthing and the three of us work side by side to achieve your birthing goals. Educating yourselves and then finding the right care provider is the first step - then classes and then practice.
This class meets at:
Tree of Life Birth Center
617 Saxony Place, Suite 103
Encinitas, CA, 92024
Free parking
Group classes must have a minimum of 5 couples in order to be held and we reserve the right to cancel the class up to 1 week before for lack of enrollment.


YOU WILL NOT NEED A COMFORT MEASURES CLASS IF YOU ARE TAKING A HYPNOBIRTHING SERIES. IT IS ALL COVERED IN CLASS 5.