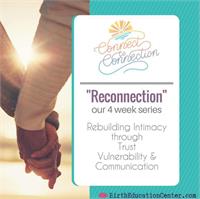 Reconnection Series
Cost: $575 Payments available.
So you've had your baby. You are feeling tired, run down, probably sleep deprived, possibly touched out. You may be asking, "Will this ever get better? or "Is this our new normal"? It is not uncommon for new parents to feel this way after having a child. It is also not uncommon for partners to lose intimacy or feel like they have been replaced by the new addition. This is the time in many parents life that any problems before baby came, now seem bigger and insurmountable.
Rebuilding trust and allowing ourselves to be vulnerable is possible with new intimacy ideas and building better communication skills. Reclaiming intimacy begins long before the bedroom and in this 4 week class series we will explore new concepts surrounding boundaries, identifying your needs and desires along with communicating and negotiating with your partner. This class will share intimacy building exercises that you can practice in the minimal moments you have in daily parenting life. Making time for each other and making those minutes count will help get your intimacy game back on track.
This is a "kid-free" series due to the nature of topics and connection between parents. Please attend classes when your child(children) can be left with a sitter for 3 hours at a time. Classes will run from 6pm-8pm, four weeks in a row. If we start late we have to stay late so please be a bit early each week. I do not have availability at this time to do makeup classes if you miss a week so please make sure this series can work with your schedule for all weeks.
$575(payments available) For a cash/check discount, Please email me for more information: Care@BirthEducationCenter.com