VBAC 101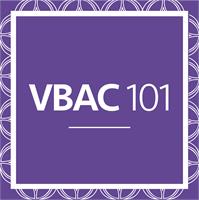 COST: $45 PER BIRTHING PARENT (no Partners please)
ZOOM PLATFORM, TAUGHT LIVE ONLINE. ENJOYED FROM THE COMFORT OF YOUR HOME!
This class will help birthing parents prepare for a vaginal birth after cesarean, or VBAC. Be sure to have snacks nearby as this 4 hour workshop will have breaks for eating - we need to keep that baby fed(oh, and you!)!
The VBAC 101 workshop will give you the evidence based education to improve your options and chances for the best birth possible. We will be debunking VBAC myths, going over current statistics and helping you to find the best care provider who will support your wishes and keep you safe.
Our specialty is in fear processing which is what makes this class special. Offering an alternative viewpoint for your last birth with women in the same boat, makes all the difference in having the best birth possible for THIS NEW BABY.
THIS is a new baby - and they need a clean slate to have their birth experience with you. YOUR labor - THEIR birth. This class may be just the reset you need to breathe and let it go the way it is meant to go.
Labor helps will also be included and much, much more!
We used to have partners attend but we found that usually one or both of the partnership did not feel comfortable expressing feelings and issues that came up around the previous birth so we address ideas here that you can take home to partners.
This class can be(and should be) as raw and real as you need to process and express all the past birth stuff. You are not alone, you have support and we can help you with individual referrals to compliment your preparation experience for this new little gal or guy. The sooner you can take this the better! Even before you are pregnant again - get in this class!
Be sure to watch our mama's VBAC success stories on our YouTube channel. We have amazing resources here and we want you to have the best labor experience possible.
Adding a few sessions of the Release and Relax class has also proved helpful for VBAC moms - offered every month on the 2nd Friday($45). These classes fill quickly so secure your spot for the months you wish to attend.
Birthing parents only


Location of class:

YOUR HOME