Virtual Doula Circles
March Virtual Doula Circle
The Walking Prenatal
Hosted by Care Messer & Heather Taylor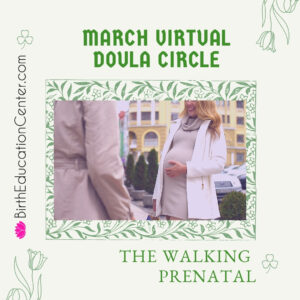 When we, as doulas, think about a prenatal visit – are we thinking outside of the box? Have you ever held a "Walking Prenatal?"
Allowing for more connection and bonding, especially while staying safe in a Pandemic, does not have to mean zoom call after zoom call. Creative meetings go a long way in helping your birthing parent open up and release extra thoughts and/or worries. There is no one size fits all when it comes to a prenatal visit because every family has different needs.
How do you flow with those? How do you add that "special something" that creates trust with your families?
Another Discussion Topic: Have you ever thought – that holding to the idea of only (2) prenatal visits before birth may not be serving some families well?
How we do "Doula work" is expanding and ever changing. If you are in a rut and feeling stuck – join us for a discussion of what has been working well for our families over the years and PLEASE bring your tried and true ideas for successful prenatal visits! No need to reinvent the wheel – let's think this out together and share!
When: March 19, 2021 06:30 PM Pacific Time (US and Canada) 7:30pm Mountain, 8:30pm Central, 9:30pm Eastern
Duration: 1.5 Hours
If you cannot attend the live event – a replay will be available for 5 days following the event- then will become part of our Online Doula Professional Series.
Register in advance for this Virtual Doula Circle: