A Doula In Your Pocket – Is Better Than No Doula | Story 1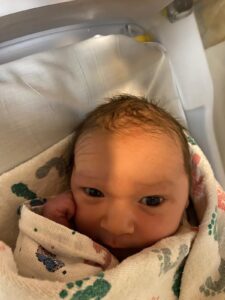 With Covid-19, protocols in the birth room are changing on an hourly basis. This is making our birthing families feel very unstable and vulnerable. When families feel unsafe, so do their babies. The world needs to take mindful, proactive steps to ensure the safety and confidence of these parents so that their babies come into a room full of love and trust instead of fear and worry. Obviously, as a birth educator, I am going to recommend that solid, interactive birth education should be the foundation that families start their birth journey with. This allows their confidence to grow as they understand the birth process and gather the tools and support to birth calmly. But some families have left things to the last minute or their birth classes were cancelled. Parents still need education and that's were a doula can begin the support.
As mammals, we imprint throughout our gestation and at our births. It is a sacred time that needs to be protected. When mammals feel unsafe during birth, they instinctively hold their babies in until they feel safe. In a hospital, this can lead to more interventions and possibly end in an unplanned cesarean. A cesarean keeps the family in the hospital longer and exposes them to more risk and possible separation from their infant if Covid-19 enters the picture.
As doulas, our job is to help ensure that families have a beautiful, first experience with their new baby. That experience begins in the interview and grows with each meeting you have before the birth. While birth workers are also feeling the instability from the virus, one of the skills doulas have acquired is the ability to go with the flow and come up with solutions in the moment. Now more than ever, it is so important to have a doula in preparation for your birth. Doula services are needed in whatever form they are available to your family – virtual or otherwise.
Right now as birth workers, we are having to adapt to what's happening in the labor room day by day. We are gathering insights from other doula groups across the country/world and sharing what is working and not working within different birthing situations "Virtual doulaing" is a new way of practicing for most doulas BUT doulas know the birth process. Doulas understand the hospital system in times of ease and in times of highly stressed situations. Experienced doulas have seen it all and have tools that you can't learn from a book. Doulas may not be able to be with you at your house during labor or at your birthing place – but they can be with you via messenger, Whatsapp or FaceTime. As parents you now need to plan for literally anything and everything and your doula can help!
A miracle happened yesterday in San Diego and this is the first story I'm going to share about why it's so important to have a doula whether it be virtual or in person, take part in your birth.
One of my HypnoBirthing families hired Ashley as their doula. This family had to leave their planned birth center birth after they discovered that their little boy was breech. The family then switched to the OB who backs up the birth center, Dr. Vu, who agreed to support them having a vaginal breech birth. So hooray for Dr. Vu who understands that breech is just a variation of normal when it comes to birth. But as 42 weeks was getting closer and being unable to induce a breech baby, Bruna and Peter decided to schedule a cesarean at the 42 week mark. While it wasn't their plan to leave a birth center, find a new provider or have a breech birth only then to schedule a cesarean – their doula had been by their side, prepping them during every change of plan as it presented itself. The 42 week was Tuesday. On Monday, just hours before their scheduled cesarean, their doctor called with some bad news. Due to the hospital being so short on masks and supplies, no partners would be allowed in the OR so Peter would have to miss the birth of his son. The family was devastated. And so was the Ashley and myself. There's nothing that makes birth workers feel more helpless when it's an outside circumstance that presents the biggest challenge for the family after all the work they have put in to create a beautiful experience. All of us were stunned and almost frozen by the news. How could one family have so many hurdles? What was the lesson in all of this?
On Monday night I called Bruna to offer my support and to give her a pep talk if needed. She had already overcome so many changes and while I know how well resourced she is – no one can comprehend this circumstance unless they have lived it. I reminded her how much mindfulness she had put into her birth preparation period and of course she could do this alone with her son if it needed to happen that way. She believes, as I do, that there is divine timing and a lesson in everything that we experience. This seemed to big to comprehend but as we cried together she faced that she could do it if she had too. Recognizing the loss that Peter was about to have was heart wrenching. We cried together and I listened to the plan that she and her doula had come up with to get through this birth that was happening the next day.
After I hung up I cried some more. So many feelings.
Ashley, their doula had a bout of inspiration. You could call it the holy spirit, you could call it the whisperings of angels, you could call it "this girls just pretty damn smart." But whatever it was, this is how it played out.
Ashley knew that Dr. Vu had privileges at another local hospital that had not been banning dad's from operating rooms yet. She suggested that they call this hospital and ask if they had any open operating times for a scheduled cesarean because their baby was breech and at the 42 week mark. The hospital had one spot left at midnight that same day, Monday. So this mama got on the phone and Dr. Vu agreed to go to the other hospital and take that spot so that her husband could attend the birth! Dr. Vu was very impressed that they had thought of this and was excited to support them especially after all of these ups and downs.
At 11:30, I got a text from this family on their way to the hospital telling me that my placenta pick up would be at a different location! They couldn't thank Ashley enough for thinking outside the box for them!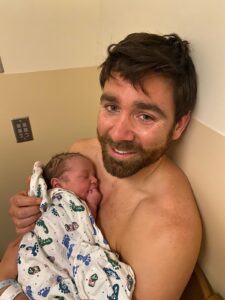 My tears started up again and so did my prayers of gratitude for what was in the process of happening. You just cannot put a price on a doulas experience and their openness to follow through with inspiration from the other side.
Whether you believe it or not, birth has a spiritual side that cannot be well explained. We just understand that it's there and that miracles can happen when everybody's open to love instead of fear. As I picked up the placenta the next morning this new father threw his arms around me and said, "This hug for my doula and I need her to know how grateful I am! I didn't miss the birth of my son because of her and I was able to support my wife and sing a song to my son as they checked him in the warmer." I got my skin to skin with him and all the things that we prepared for went in our favor. Even though a cesarean wasn't in our plan nor a breech baby, nor a transfer from the birth center we chose – it was because we kept our doula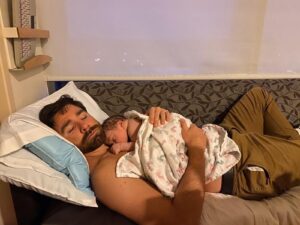 that I got to witness my son's birth. Ashley had the experience and the knowledge to find a work around. We will be in debt to her for the rest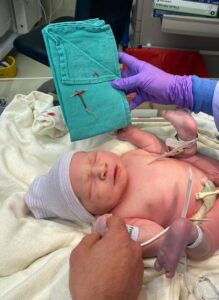 of our lives!"
And another little message about divine timing is that everything is ALWAYS in its place, even when it doesn't seem like it is. This little baby was an IUD baby. He was not supposed to be here but he showed up anyway. Note the picture of the IUD and little Benjamin. He had a plan all along and the fact that he went 42 weeks and breach in this time period… Maybe it was HIS whisper to his doula to find the only open time slot where his dad could attend his birth. I wouldn't put it past him. Welcome brave little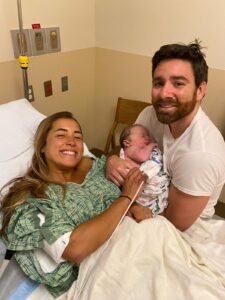 boy Benjamin.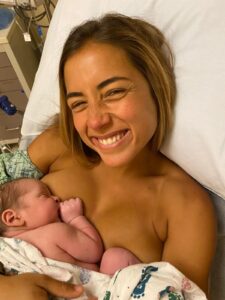 Now go hire your doula and work on some mindful preparation. This birth is happening, and it can be beautiful. You can remain calm and your baby can experience peace, love and a welcome atmosphere when they come into your arms. You can do this and you already are…
@ashleystetsonbirth  AshleyStetson.com
For more information on doulas