Breastfeeding Is A Journey You Can Get Through
Allison's Story
"I think the majority of mamas hope to breastfeed. I had my heart SET on it. I grew up hearing stories from my mom about nursing my brother and me into our toddler years, and I expected it to be no different for me. She loved it so much, and knew I would too (but no pressure, right?)
When my son was born, I couldn't wait for that first latch. I pulled his fresh body up onto my chest and expected him to find his way and we would both begin the natural journey of pure bliss. Nope!
It didn't take long before we both realized it wasn't working and something was wrong. My nipples were in excruciating pain and my baby was hungry. We both had so many tears, and I felt like a failure. There are so many roadblocks that can affect a successful breastfeeding, and we hit almost all of them.
We faced lip and tongue ties, nipple shields, sns systems, anemia that affected my milk supply, bottle refusal, syringe feeding, family pressure, being a prisoner to a breast pump every 2 hours, painful nipples, feeling rejected by my baby, and pure new mom EXHAUSTION. It hurt and I felt so alone.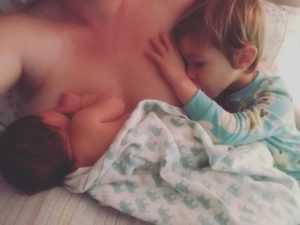 That's when the fairy godmother who was my IBCLC came into the picture and rescued me. We spent hours working with professionals, and joined a local breastfeeding support group where we met other mamas experiencing the same struggles we had. There was help, and it turned out I was not alone.
Eventually, we kept going to share our story of success and to inspire other families who were struggling. It took exactly one month of my newborn's life to figure it out, but with our dedication and the support of an incredible birth and postpartum community, my baby had his first real latch the day before he turned one month old.
That journey of pure bliss DID begin for us. It is beautiful and I could not love it more. To this day, 3 years later, our journey continues as I tandem nurse my firstborn and his baby sister. I am beyond grateful for the support we had available to us. There is help, and there is hope. You are not alone, Mamas."
Photos from @allisonjrowley